Objective:
We wanted to raise awareness and create public spectacle as part of a larger aim of engaging with Columbia on many fronts in trying to have them sign the Open COVID Pledge. The groups we seek to reach in building our case of support for #FreeTheVaccine includes reaching out to students, professors, researchers, alumni, community members, and anyone else who might be interested in having Columbia act as a leader in the area of making any future vaccine research accessible to not only it's communities, but to the broader public.
The Project:
Columbia's Alma Mater Statue Dons Surgical Mask for an Accessible COVID-19 Vaccine
NEW YORK, NY, May 19, 2020 – Alma Mater, the "nourishing mother" of Columbia University's student body, sported an oversized surgical mask, sash, and vaccine bottle this weekend, as the Class of 2020 graduates into a world transformed. The iconic 1903 bronze statue sent her students off with a simple message: "Be Well."
Nearby statues of "Alma's friend's" were also decorated with signage in support of an accessible vaccine. These images were created and then distributed to a variety of media outlets.
We also created a how-to video to encourage other folks to don friendly statues with masks of support in their locations.
TRY THIS:
Make a version for your target.
What worked?
We pulled together all of our different strengths as a Lab, and got good public response to the in person intervention. We also created some fantastic images that have bolstered our reaching out to folks connected with Columbia and our digital presence in general.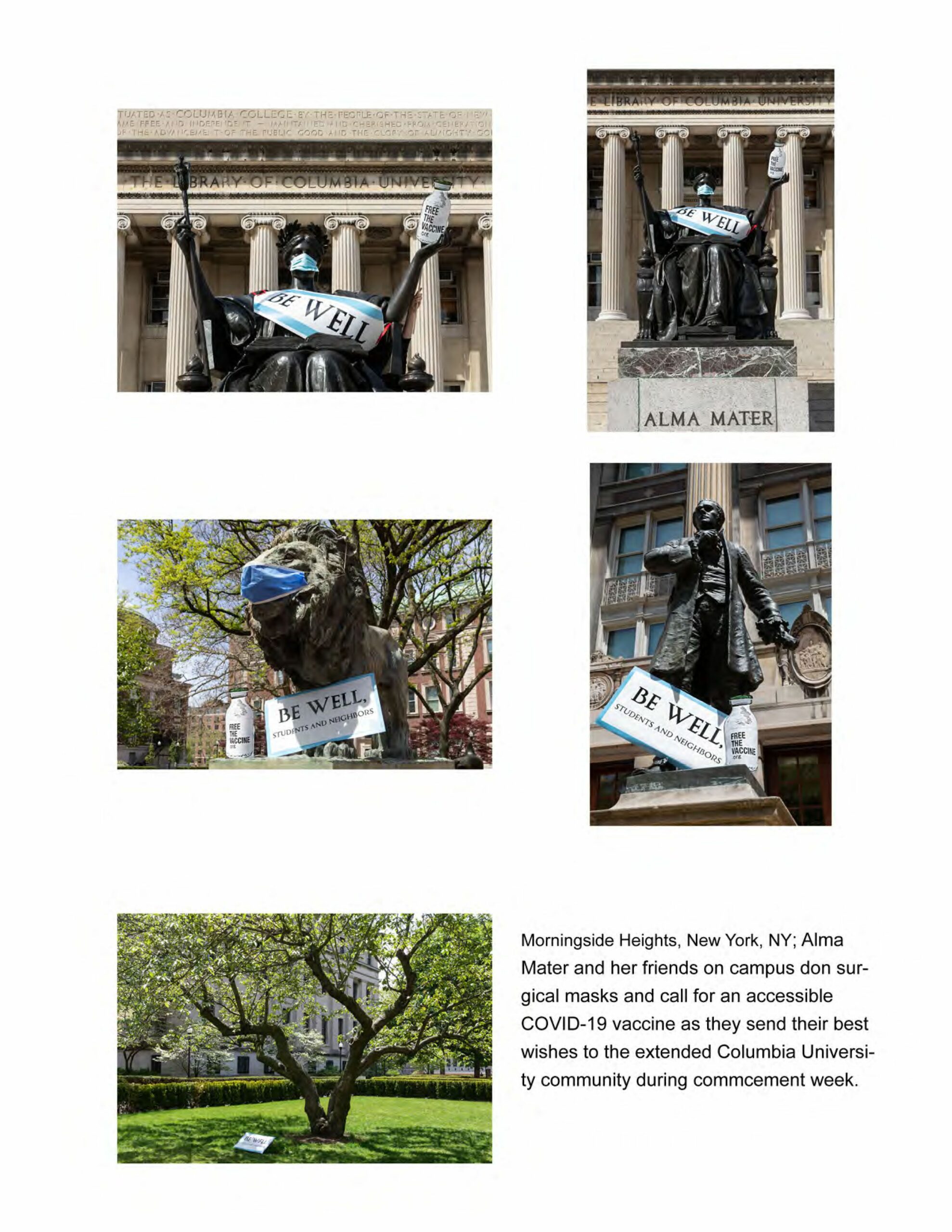 Other Notes:
We staged the scene to draw attention to a growing global campaign demanding open licensing arrangements for COVID-19 research and development efforts at universities worldwide. Such arrangements would help to ensure access to life-saving innovations developed with tax-payer funds. Columbia, located in the epicenter of the global pandemic, is one of the world's foremost research institutions investigating vaccines and therapeutics to combat the virus.
A set of instructions exists on how to make this work
Original files can be provided for exhibition
The work can be reproduced on site with instructions (provided)
Links:
Reflections from Joseph Amodei
What was the process/journey of creating this work?
This project was the action that really cemented the relationship the Ligers share. We came together with different skills, backgrounds, and proximal locations to Columbia to make this project happen. It was fun, collaborative, and exciting!
What would be your next steps, building on this idea, if you had a million dollars and all the time and skills in the world?
We are talking about how to expand on this action in the fall! We would surround Alma Mater with a live counter of all those who have signed on with individual support in and around the Columbia community. This would take the form of some sort of giant mechanical object, or nightly projection-mapped interventions (all of course while Alma was wearing a mask).