This week, we'd like to introduce you to two more members of our wonderful Free The Vaccine community: Vivian Peng and Kaity Licina, both from Los Angeles, California! Vivian and Kaity are members of the Otter Lab, which is comprised of activists from California and mostly SoCal.
Meet Vivian
A data scientist, artist, and activist with years of experience in the access to medicines movement, Vivian is a mentor in the Otter Lab who has traveled as far as Lashio and Rakhine state in Myanmar while on assignment with MSF with Doctors Without Borders!
Meet Kaity
After the city shut down and filming on the television show she works on was postponed, Kaity—a hairstylist for film and television—decided to dedicate her talent for creative problem-solving to our campaign!
Now that you've met Vivian and Kaity, read on for what they've learned so far and what they'd like to share with fellow activists! This portion of their interviews have been condensed slightly for ease of reading.
What made you decide to join the Free The Vaccine campaign?
Vivian: One of the coolest things about participating in this campaign is seeing how many of the same access to medicines activists are still in this work, still in this fight, and also being able to share that information with a whole broader audience which we really wouldn't have been able to reach previously. It's exciting to see that kind of transformation.
Kaity: I saw this as an opportunity to be helpful for the greater good, and work in activism is something that normally, my schedule doesn't really have a lot of time available for, so it was kind of a perfect storm. As it has worked out, the longer I've participated in Free The Vaccine, the longer it seems it will be before we'll be able to go back to work in any sort of full-time capacity. So the timing is pretty perfect!
What's your most unique skill that's come in handy during this campaign?
Vivian: Probably my design skills! We printed these baseball cards of the research scientists we wanted to highlight as heroes of the campaign, and on the back of the card we have their "stats," and we encourage them to sign the Open COVID Pledge. So we'll be shipping these out to the researchers! I love having things in physical space, things you can touch. It's harder to ignore than an email or something digital.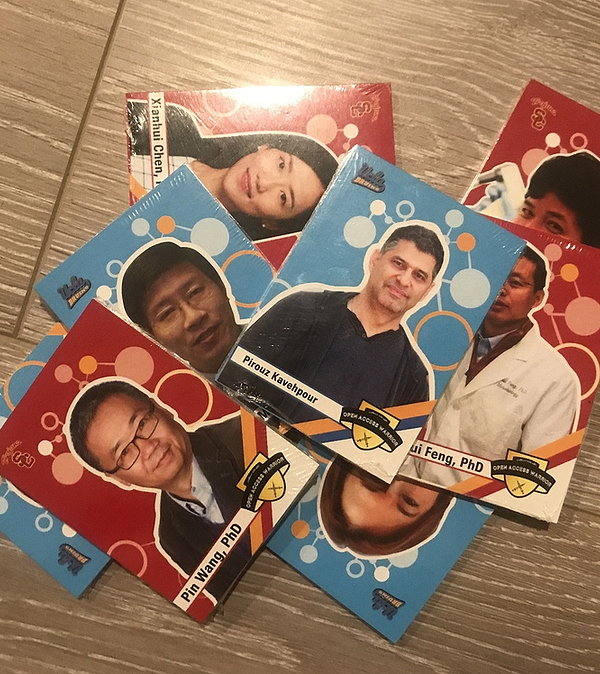 Kaity: Generally, people with a theatrical background and people who have trained to work in theater, whether at an academic or professional level, have a very [laughs] well-rounded skill set in terms of the idea that the show must go on. I can't even count the number of times in my career I've been forced to solve a problem in the moment, creatively and quickly, to deliver projects under budget, to deal with all sorts of different personalities and all different levels of stress. Those "soft" skills that people talk about, in terms of teamwork and relating to groups, I think are where theater people kind of excel, because we're just really used to big personalities, tight deadlines, long hours, and managing to get through it all. I'm used to making art on very small budgets, I started my career in the mid-2000s, so I was a starving artist for many years. And I've always sort of made stuff out of nothing. I've been making a lot of cut paper designs of posters, just because I have time, [laughs] I have paper, I have very little computer skills. I think the craftivism aspect is where my strength is.
What's the most useful lesson you've learned from your work so far?
Vivian: To get to know people beyond their work, or whatever label we place on ourselves and on each other. When we were first getting to know each other as a group, we just went around and asked what everyone's profession was. Some were students, some were artists, some worked in research, which is great! But I think the most interesting part was when midway through the campaign, we went around and shared what our hidden talents were, and I feel like that's when it really opened up our brainstorming process, and opened up our possibilities. Because we were no longer just thinking about how we contribute as a "worker," but thinking in terms of our interests and how we blend those mediums together. So a lot of people were talking about how they're good at arts and crafts, or baking, or styling. My secret talent is that I'm really good at Photoshopping things. Not in a design sense, but for example, Photoshopping a cat's head onto a human body and making it look seamless. Being able to break out of our molds was really inspiring and allowed a lot more ideas to flourish.
Kaity: Just how much there is to still learn about the way the world works, and the fact that profit is so much more of an incentive to a large part of the population. Being rich or having a lot of money has never been that interesting to me, or at least not a huge priority, and so the rude awakening of how the pharmaceutical industry is reducing access to medicines for people… has changed my outlook on the world forever. Because it's such a sad idea to be hurting or to die just because you're poor, or to become poor just because you're unfortunately unwell. It hits really close to home. There were some incidents when I was younger and didn't have health insurance where I had to be hospitalized, and I was too scared to ride in an ambulance because I knew I couldn't afford it. And that's unfortunately the case for a lot of people in this country. So now that I'm in a more comfortable position and I have the time to devote to helping other people, it feels important to me. I think it will be a cause I champion for the rest of my life.
What's the coolest idea you've gotten or skill you've learned from another participant?
Vivian: The coolest piece I've seen in this whole campaign is the "Jolene" song. I've seen so many times when public health people try to make music or songs about public health messages, and it just comes out really cheesy, and this time I thought it was very clever, really well written. I was blown away by the talent of the people singing. Also, it felt like an effortless initiative to infuse pop culture rather than trying to force pop culture onto something that wasn't a good fit. That's been really cool to witness and it's definitely inspired a lot of our own ideas.
Kaity: I will say that this time away from people, being home alone with only technology, has forced me to learn very quickly a lot of technology I was not familiar with. Zoom was brand new to me, sharing Google Docs was new to me, and watching the skill with which my teammates navigate the internet social media, and graphic design has been really amazing. They're teaching me things, and I'm picking things up by osmosis.
Thanks for reading the second spotlight on our wonderful team! Make sure to check out the first spotlight if you haven't read it yet. We hope to continue introducing you to the incredible people from so many different backgrounds doing this work!