WASHINGTON, DC — Today, more than 100 high-level leaders from public health, faith-based, racial justice, and labor organizations, joined former members of Congress, economists, and artists to sign a public letter calling on President-elect Biden to make the upcoming COVID-19 vaccine a People's Vaccine: a global public good, freely and fairly available to all, prioritizing those most in need here at home and around the world. Free The Vaccine has joined the call encouraging the need for a vaccine for ALL people.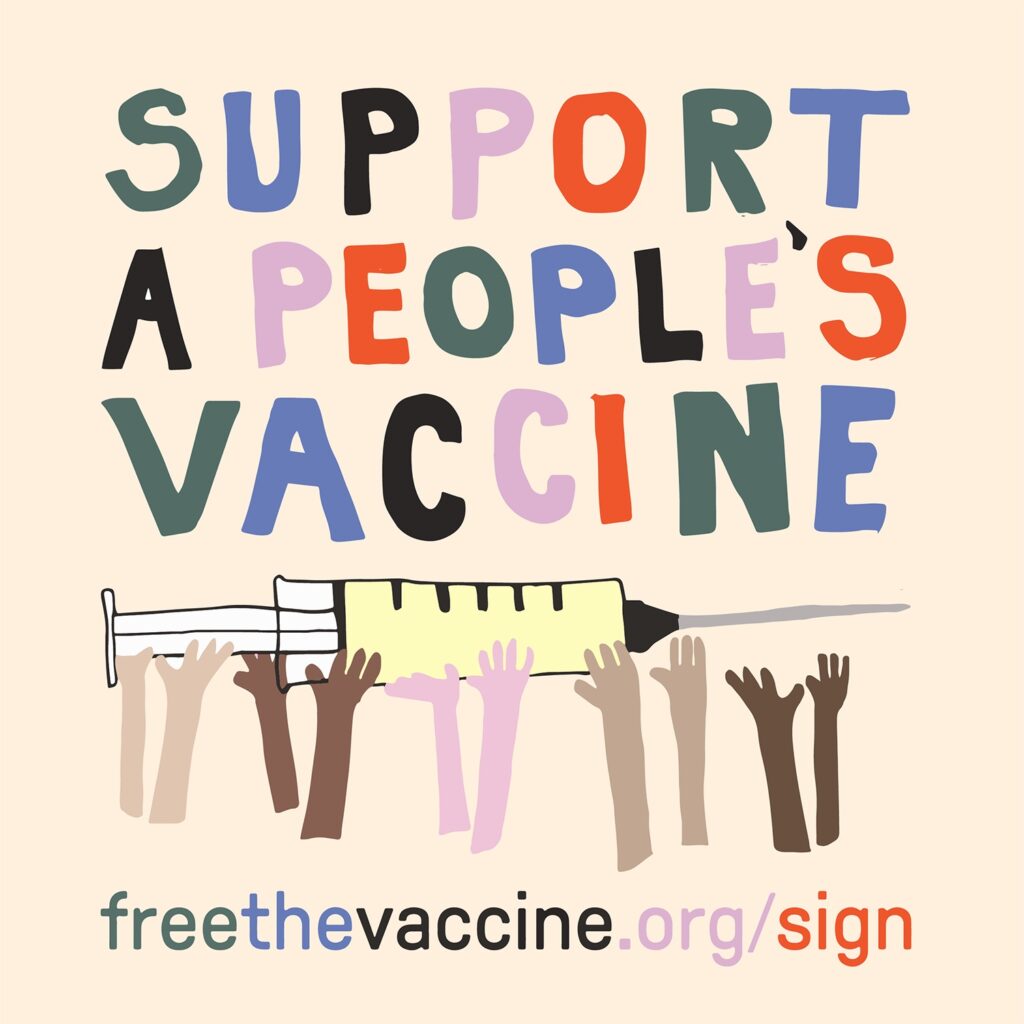 "A safe, effective and accessible COVID-19 vaccine is vital to bring an end to today's dual economic and health crisis – so our families are safe, so people can get back to work, so we can live our lives again," the letter says. "No one anywhere is safe from this disease until everyone everywhere is safe."
The public letter comes as the leading vaccine candidates have already or will prepare to apply for emergency use authorization from the Food and Drug Administration. Signers include philanthropists Abigail Disney and Chelsea Clinton, actors Alyssa Milano, Aisha Tyler, Maz Jobrani, and Forest Whitaker, professors Joseph Stiglitz and Noam Chomsky, and activist Ady Barkan. Former Labor Secretary Robert Reich and former members of Congress Lynn Woolsey, Mary Jo Kilroy, Claudine Schneider, and Sander Levin also signed.
The letter recognizes that President-elect Biden can bring about a People's Vaccine as the fastest and most effective way to fight this pandemic, reopen our businesses and schools, protect Americans and our interests, and save lives here in the US and around the world.
"The next US President will have tremendous power to help decide who gets access to protection from this virus, when and at what cost," the letter continues. "With this power comes a historic opportunity for America to lead again by leveraging the strength, know-how, and generosity of our people to combat this disease here at home and wherever it resides."
"The only strategy to end the pandemic as quickly as possible is by ensuring we have a People's Vaccine–safe, effective, available for all, and free at the point of delivery," says Merith Basey, Universities of Allied for Essential Medicines, Executive Director of North America.
As scientists deliver the breakthroughs needed for the COVID-19 vaccine, all vaccines must be made in quantities that ensure everyone, everywhere can be protected. Despite largely being funded by public money, pharmaceutical companies have not made the necessary commitments to ensure global production and global access. In fact, many have indicated that they intend to profit off their sale, and the highest bidders are already reserving the limited quantities that individual manufacturers can produce. The scarcity this competition creates means the COVID-19 crisis could be around for much longer than if a vaccine was made widely available to all.
Renowned epidemiologist Arthur Reingold joined Vanessa Kerry, Director of the Program in Global Public Policy and Social Change at Harvard Medical School and CEO of Seed Global Health, Randi Weingarten, President of the American Federation of Teachers, Melanie Campbell, President and CEO of the National Coalition on Black Civic Participation and Convener, Black Women's Roundtable, Sister Simone Campbell, Executive Director of the NETWORK Lobby for Catholic Social Justice, Paul Farmer, co-founder of Partners In Health, Abby Maxman, President and CEO of Oxfam America, Robert Weissman, President of Public Citizen, and Morris Pearl, former Managing Director of BlackRock and chairperson of Patriotic Millionaires to also sign the letter.
The group calls on President-elect Biden to:
Guarantee all vaccines are sold at affordable prices, as close to cost as possible, to ensure that the US and other governments can provide protection to people for free.
Ensure full transparency and accountability over US funding for the development of COVID-19 vaccines.
Ensure that companies and research institutions share vaccine technologies and know-how nationally and globally to overcome price and supply barriers, especially for those vaccines developed with taxpayer money.
Prevent monopoly control of production in order to mobilize large-scale and decentralized manufacturing of COVID-19 vaccines to adequately supply safe and effective vaccines for people here and around the world.
Work collaboratively with world leaders and health authorities worldwide to deliver and implement a fair and equitable global distribution plan for the vaccine and all COVID-19 products and technologies.
Empower scientists to independently determine – without fear or favor – if each vaccine is safe and effective for approval. Neither politics nor profits have a place in the vaccine approval process.
Prioritize protection for those people most in need and most at risk, including frontline healthcare and social-care workers, essential workers, older people, people with pre-existing conditions at higher risk, and high-transmission communities here and around the world.
"US taxpayers have already committed more than $10 billion in public money towards a COVID19 vaccine," the letter continues. "A vaccine paid for by the people should work for the people and remain of the people."
Read the full letter here.
/ENDS

Editor's note: This public letter is part of the global Peoples' Vaccine campaign backed by past and present world leaders, health experts, faith leaders and economists. For more information visit: https://peoplesvaccine.org
On Sunday, G20 leaders pledged to support the "affordable and equitable" global distribution of the COVID-19 vaccine.