Just last night, we wrapped up our fourth season of Free the Vaccine for COVID-19! We've learned so much with our partners at the Center for Artistic Activism (C4AA) and we've delivered over 120 creative actions and many more prototypes in the fight for health equity and justice. Through our advocacy labs we continue to innovate new ways to pressure universities, publicly-funded institutions, corporations and governments to share COVID-19 medicines with the world. I'm delighted to share that it's now your chance to get in on the action and learn some of the lessons we've been teaching throughout the campaign!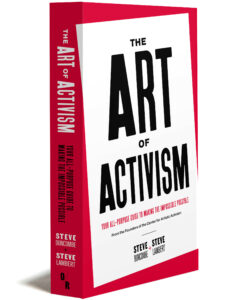 The Art of Activism, brought to you by the co-founders of the C4AA, brings together their extensive practical knowledge—gleaned from over a decade's experience training activists around the world—with theoretical insights from fields as far-ranging as cultural studies and cognitive science. If you look closely you'll see some familiar faces and campaign actions from our network and beyond.
If you're looking for a way to shake up your activism at a Universities Allied for Essential Medicines chapter, at your job or in life, I can't recommend this book enough. We all are dreaming of how to make the seemingly impossible, possible and this book is a guide to help us get there. If I had my way I'd gift every UAEM student, board member and donor this book! Instead I'll ask you to see for yourselves. And if you haven't donated yet to our record-breaking end of year fundraising campaign then please do chip in so we can deliver more trainings to more students in 2022. Every donation makes a difference to us. And if this book inspires (which it will), consider supporting a new season of our campaign next year.