Objective:
1) Create irresistible imagery for a media campaign to work towards our larger goal of having the University of Pittsburgh to Sign the Open Covid Pledge. 2) Raise awareness about Dr. Salk's connection to vaccine research and open Intellectual property to the greater public. 3) Create a fun and timely halloween-centered work of creative activism
The Project:
Invoking the ghost of vaccine researcher Dr. Jonas Salk, we created humorous gravestones that echo his perspective about vaccine patents when asked about the polio vaccine he developed in Pittsburgh – "could you patent the sun?" Then we dressed up as Dr.Salk and distributed these gravestones (with linked QR codes to learn more) all over The University of Pittsburgh campus where current COVID-19 vaccine research is being done to encourage the same openness and support for a peoples vaccine that is the university's legacy.
TRY THIS:
Share it on social media. #FreeTheVaccine #PeoplesVaccine
Channel the Ghost of Salk in your community.
What worked?
The creative community process! As a lab, the Juncos worked across different cities with different backgrounds to make this happen. Once we did this action we were empowered to keep going and this led to many more actions and activities in our efforts to get the University of Pittsburgh to sign the Open Covid Pledge.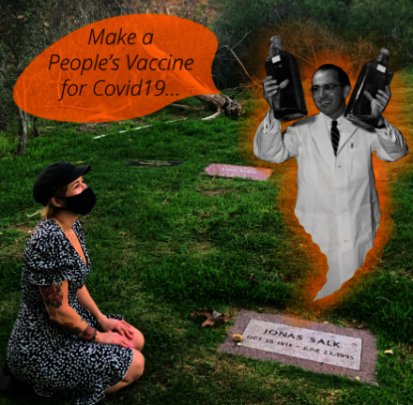 A set of instructions exists on how to make this work
An original object can be provided for exhibition
Original files can be provided for exhibition
The work can be reproduced on site with instructions (provided)
Reflections from Joseph Amodei
What were some of the responses to this work?
People were really excited about the halloween timeliness of this work! It even spurred collaboration with another lab across the country (where Salk's actual gravesite is) and resulted in more exciting imagery and proliferation of this people's vaccine ethos.
What would be your next steps, building on this idea, if you had a million dollars and all the time and skills in the world?
If there is no people's vaccine next year (as in no promise to share the IP and the manufacturing technology of current vaccines with the rest of the world for free), then I would make the scale of this 1000x this first iteration to really draw attention to the harm that vaccine profiteering causes to the wider world outside of the USA and other wealthy (via extracted labor and colonialism) countries. In short, to continue to summon and make proud the spirit of Dr.Salk.