Objective:
To educate the public and advocate for a People's Vaccine.
The Project:
A rally to mourn loss, celebrate life, and encourage our institutions to do better and provide a People's Vaccine.
TRY THIS:
Make it specific to your community.
Organize one where you live.
What worked?
Images from the Funk Rally made it into national and international news.
Other Notes:
We started with a New Orleans Jazz-style funeral to mourn the overwhelming loss of life and then transitioned to a festive rally inspired by DC-based Go-Go music and 1970s fashion.
Original files can be provided for exhibition
Links:
Reflections from Tayyiaba Farooq
What was the process/journey of creating this work?
The Funk Rally came out a need to represent the grim seriousness of the campaign and Trump's failure are president to adequately combat the pandemic while also painting a picture of hope for the future. At first organizers had wanted to keep the tone very serious and somber, but together with other ally organizations we can up with theming of Funk and imagery from the 70s. The rally was also adapted from a traditional New Orleans Jazz Funeral where they do not only mourn the end, but celebrate the very concept of life. The inspiration of this went in to the color of parade decorations, the lab coats with flowers and inspirational quotes, as well as the displaying local music culture. Altogether we were able to create something that was full of life and solidarity for our community. The approach we had taken to demanding action on ending the pandemic and ensuring an accessible vaccine was unique to our rally and was derived from the principles of creative activism. This out of the box approach had really gotten the attention of people that would have not otherwise cared. It was a great example of ally organizations coming together to make something positive, and from my perspective really launched the idea of vaccine accessibility at the University of Maryland.
What were some of the responses to this work?
People were able to dance in the street, create a beautiful mural at the end, and receive positive attention from onlookers and those who featured us in the press. The imagery produced from the campaign is still being used, and just goes to show the impact this one event has had on the campaign at large.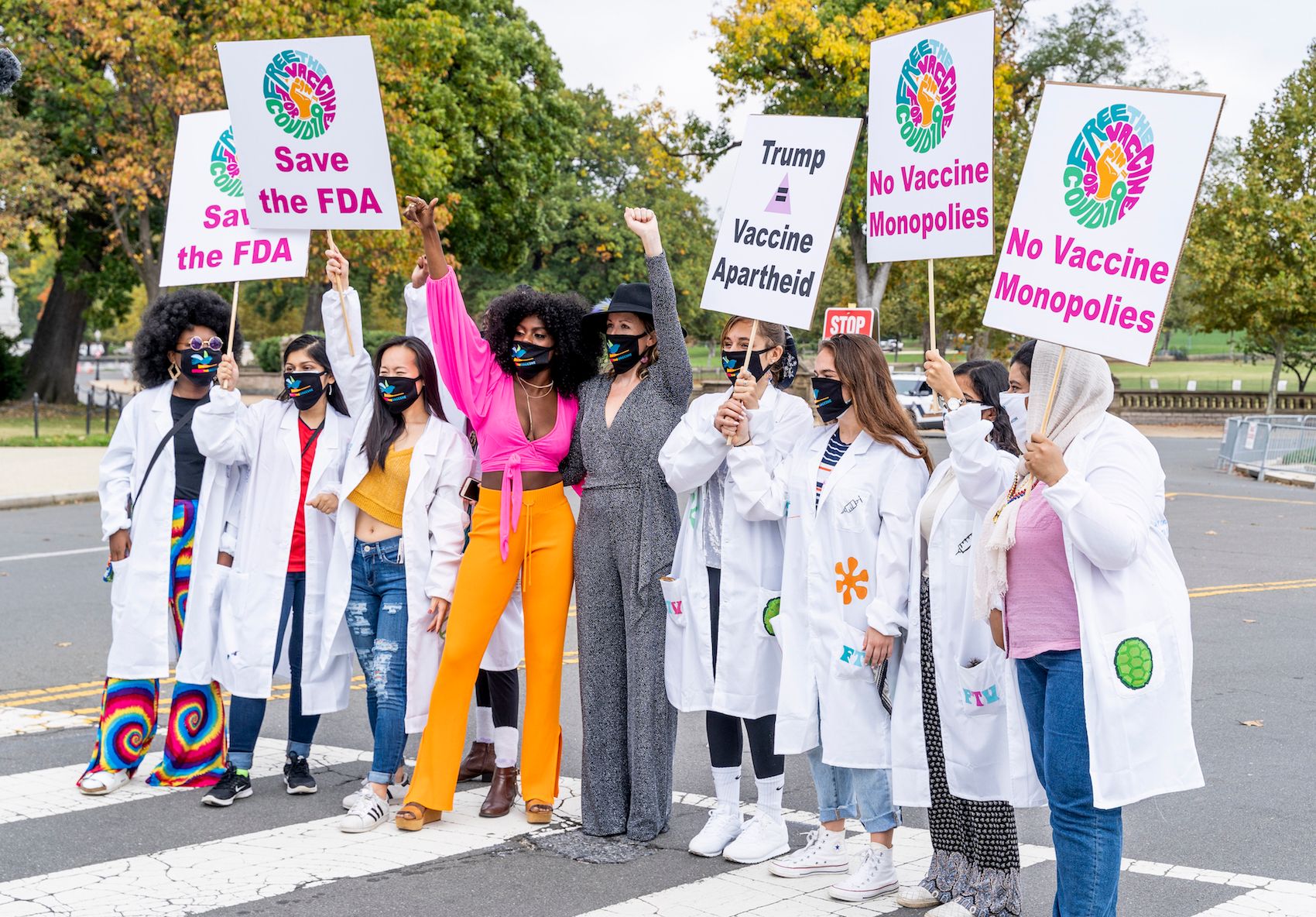 About this project
Creators:
Free the Vaccine for Covid-19
October, 2020
United States, Washington
Varies